Top-Quality Portable Storage Buildings in Georgia
Patriot Buildings LLC offers great quality buildings in GA at a great price!
Contact Us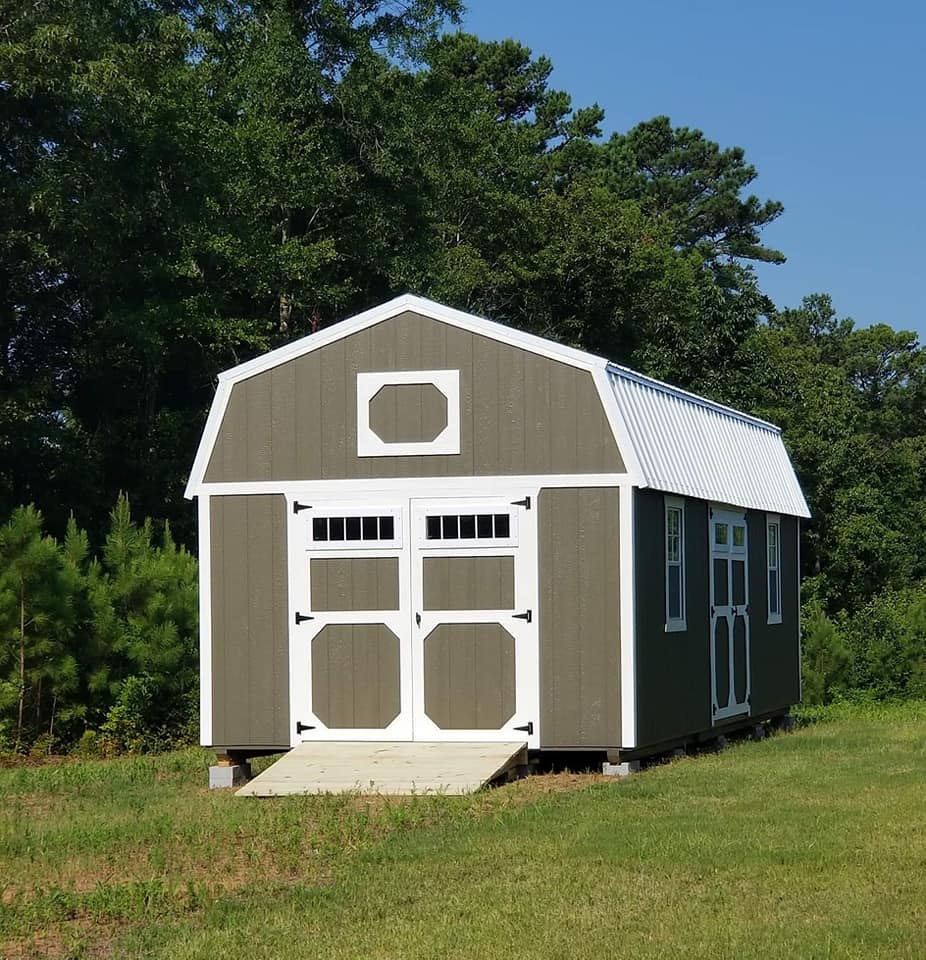 Welcome to Patriot Buildings LLC!
We are a family-owned business that focuses on Portable Storage Buildings.
Our heritage is based in Middle Georgia's Amish-Mennonite community which is well-known for delivering top-quality craftsmanship. From Big to Small, Wood or Metal Building, we have them all so whatever your need or budget we can help you and create your perfect portable storage building in GA!
If you want to learn more about Patriot Buildings' buildings, feel free to contact us directly to set up an appointment!
Call Us
Take A Look At Our Products Below
Whether you are needing a large or small building in the painted wood, treated T1-11 or in the metal, give Patriot Buildings LLC the opportunity to provide you with high quality one.
Explore our wide range of products designed to meet your needs, including lofted barns, utility buildings, metal utility buildings, and metal buildings in the state of Georgia.
What Our Clients Are Saying
These are the finest people that you'll ever do business with! My 81 year old father-n-law bought a shed from them and we stopped in to discuss the matter about the shed and we were treated like family! Very pleased!
Keith Beck
Nathan is fantastic genuine and kind. Met today for a storage purchase he found exactly what we needed at a great price . Hope to do business again soon
Charmane Manns
Wow! I can't say enough about the customer service we received from Nathan. He was attentive to our needs, responded to our many questions in a timely manner and was very professional. The quality of the shed we purchased was Outstanding. We shopped around and this was by far the best deal. We purchased a 12×20 wooden shed and we are VERY pleased. 30 yrs retired Air Force and I'm a stickler for attention to detail; Patriot Buildings nailed it! Thanks team.
Bryan and Wanda
Completely Satisfied Customers
bryan vibert
Great experience with Patriot Sheds. Arrived on time employee was friendly and professional. Everything is great. I would re commend them torally. Nathan and his employee made sure everything was right before they left. 5 out of 5 stars
James McCarthy
Love the customer service of this business.They are very willing to work with customers.They have great quality built barns.They make sure building are set up to everyone's satisfaction.Love the followup service if needed.Also love how they can be reached at anytime.The delivery and set up is smooth and very professional.I would refer this barn business to anyone.
Life on PatchWork Acres Yoder
Excellent product as well as customer service! Definitely would recommend if you are looking to purchase a quality building!
Timothy Whitt
Awesome customer service and great quality!
Austin Ogden
Just had my building delivered today and I gotta say, Glen was a great help. Talking with everybody through the process of the shed being built was great and all of Glen's help with the delivery made my experience that much better. HIGHLY RECOMMEND!!!
Ricky Plemons
My 8×16 Shed has been delivered today! the building looks Great and you can tell it was carefully made! this Company is friendly, professional and prompt.
I have been researching companies quality of service and quotes; I got the best DEAL with Patriot Buildings LLC.
Jas Wenceslao
Beyond happy with my building purchase! Everything came in great and was exactly what we wanted and needed!! You cannot beat the pricing, timelessness, or customer service 😊
Sierra Childers
I love my new shed. Everything went great. Very professional. I would def recommend Patriot Buildings to anyone. Very Affordable as well.
Jessika Stanford
very satisfied great man to deal with highly reccomened
Kimandjae Mobley
Yes I would highly recommend Patriot Buildings, I love the one I have
Earnest Dorsey
Purchased a 10×12 shed from them, the process was flawless and the delivery was on time… highly recommend these guys for your next storage shed
Chris Adams
I just purchased a 12'x24' custom portable garage from Patriot Buildings LLC and I could not be happier. Every part of the process was outstanding. I had tons of questions for them in the beginning and they quickly answered every one of them. Not once did they make me feel like I was a bother to them. The building was done by the date they estimated that it would be. Glen delivered, set up and leveled the building perfectly and right on time. The building was very well built and exactly the way I asked. I HIGHLY recommend Patriot Buildings and if I ever need another one I will absolutely purchase it from Patriot!
Timothy Kuhn
Purchased a 12×24 lofted barn shed from here and the customer service and communication throughout the process were outstanding. I was never left guessing during the build on what was going on and the delivery service was great!
Matthew Smith
Love my shed. I was impressed with how well it was sealed. Doesn't look like bugs will be able to get in. Nathan and his driver were great to deal with.
Beth Davis